Back to Results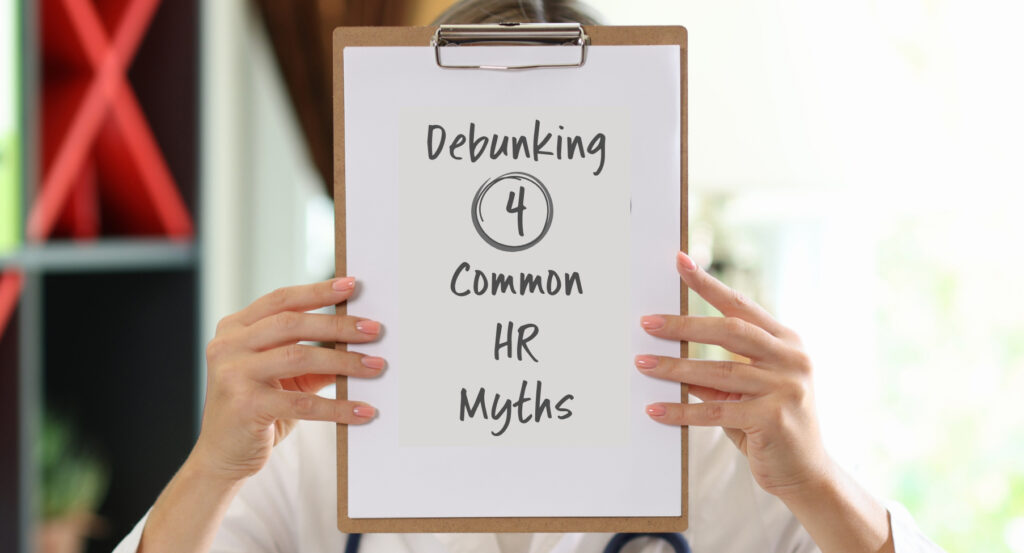 4 Common HR Myths Debunked
Ask five people to explain the job of Human Resources (HR) to you, and you'll get a different description from each one. To help separate fact from fiction, I'm sharing four myths I encounter regularly with truthful facts about each one. In other words, myths debunked!
Myth 1 – HR Does All the Hiring and Firing
Human Resources does oversee the process of hiring and firing. And rest assured, HR professionals much prefer hiring folks to firing them! But the department of HR doesn't fire people; managers do. HR coaches and counsels. When necessary and requested, HR can/will administrate the firing. However, HR's ultimate responsibility is to help the business make business decisions and provide data on the pros and cons of a situation. The business makes the decision to fire and hire employees. Regarding hiring, HR helps the manager and organization find the right people for the positions in the organization, – not to be confused with an outside recruiter who is there to help job seekers find a job. But as with firing personnel, the business and the manager make the hiring decisions, with appropriate input from HR.
Myth 2 – HR Likes to Catch Employees Doing Something Wrong
HR does enforce rules and policies that a lot of times seem, and may actually be, too punitive. There's more than one HR pro who has a story about a policy that was put into place because one person found a loophole and took advantage of it. But for the most part, HR wants to be an employee partner and create a positive, productive working environment for all. However, every society needs rules and boundaries, as well as someone to administrate those rules. In the workplace, that's Human Resources. Their responsibility is to ensure the environment is fair, equitable, and safe for all employees, including the employees who work in HR.
Myth 3 – HR Doesn't Understand the Business
Any good HR professional will learn about the business itself and the work the staff do. In fact, this is what helps HR create policies and processes that work for the employees, and not just ones that support regulations and compliance. HR pros work to understand their organization's core business principles, internal and external operations, and the goals of the organization. They strategically tailor and position policies and day-to-day activities to best serve the organization.
Myth 4 – HR Doesn't Care if I Understand My Pay and Benefits
HR does want to help you understand your pay and your benefits. They can answer your questions or help you find the answers to get you what you need. There's a lot that goes into your benefit package and they know that the more time they spend with you during open enrollment especially, hopefully the fewer questions you'll have when you need them. HR is there to help. If you're having life challenges, even non-work-related, they may have resources or creative solutions that can help you. It is true that there are unscrupulous professionals in the HR world, just like in every other profession, but for the most part, most HR professionals are there to help you, the employee, and want to do the right thing.
_________
Close HR offers a broad range of high-level HR/people management support and solutions to business owners and senior-level management. Contact us to discuss how we might assist you