Back to Results
4 Recommendations for Employee Recognition and Appreciation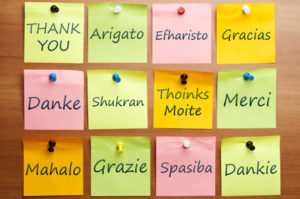 This Friday, March 6, is National Employee Appreciation Day. So what's your game plan for showing appreciation to your employees?
First, lest you think that that employee appreciation doesn't matter, note this:
"Data collected from an open-ended, unaided survey of one thousand randomly selected employees in the U.S. revealed that the single most important practice managers can adopt to cause employees to produce "great work" is to recognize them. In fact, employees in a recent study cited "recognition" three times as often as any other that my cause them to produce great work." — O.C. Tanner
And leadership expert Glenn Liopis notes that in the world of acknowledgement, significance is a greater goal than attention.
So, how do we go about recognizing employees? Do we have to have a big budget? Do we wait for the next quarterly company meeting? Do we recognize employees one-on-one or in front of the team?
Here are four recommendations for facilitating employee recognition:
 It should be intentional. Management should be intentionally observing employee performance and looking for opportunities to recognize outstanding work achievements and behavior. If management is not looking for opportunities, then it will be challenging to effectively recognize and appreciate outstanding performance.
 It should be immediate. Management should follow this Golden Rule for employees: "Praise in public, and correct in private." When observing an employee's outstanding performance, recognize them as soon as possible by immediately thanking them in person for their outstanding work. Then, look for an opportunity to recognize them in front of the team within the next 24 hours, so that the recognition is timely according to when the performance/achievement occurred.
 It should be personal. Employee recognition should be personal. When recognizing the employee, call out their name, department, and the performance being recognized and tie it in to how it supports the company's values, mission, and goals.
 It should be tangible.Consider an appreciation gift along the lines of a company logo item, lunch with their supervisor and the company President, a gift card to a restaurant, $50 dollars, or some other token of your appreciation and recognition. It certainly doesn't have to break your budget, but "spot rewards" for performance goes a long ways toward company good will.
And when you do recognize the good work of your employees, here are some of the benefits you'll reap from their recognition:
Increased employee productivity
Greater employee satisfaction and engagement
Deeper loyalty
Better teamwork between employees
Higher retention of quality employees and lower turnover rates
Better safety records and fewer work related accidents
Less absenteeism due to job stress
Higher customer satisfaction
Consider getting a head start on employee recognition by tying into National Employee Appreciation Day this Friday, March 6. Consider kicking off a formal Employee Recognition program with something along the lines of ice cream for the team or $5 gift cards to Chick-Fil-A or Starbucks for the entire company, and announce future opportunities the company will be looking at to recognize individual employee performance going forward.
The bottom line is that appreciating and valuing your employees will in turn help them appreciate and value your customers. And in that scenario, everybody wins—your customers, your employees, and you.
For more tips or assistance with employee relations, compliance issues, etc., contact me. I offer an initial complimentary one-hour consultation for businesses desiring HR consulting.