Back to Results
Employee Background Checks: How Necessary Are They?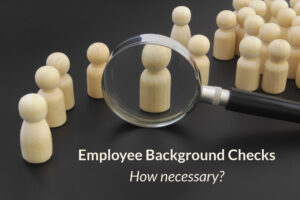 The job required that he drive a company vehicle to fulfill his employment responsibilities. When asked about his driving record, the candidate responded, "It's good." However, when the background check came through, it turned out his driving record wasn't so good after all.
This candidate had three previous DUI's, several speeding tickets in excess of 15 mph over the speed limit, several violations of driving without a valid license/insurance, and on top of that, his own license as currently suspended.
Needless to say, the employer withdrew the job offer based on the fact that the prospective employee failed the background check and the company's insurance carrier refused to add the potential employee to the company's insurance plan.
And that is just one of the reasons you should always run background checks on potential employees.
When should you run a background check on job candidates?
After you extend an offer but before the start date. You must inform the candidate that you'll be running one, and provide them a waiver to sign.
After that, running checks on a potential candidate through county, state, and federal and criminal record checks are all fair game, including a motor vehicle report on their driving record and a social security number check. And you'll want to do a sex offender's registry check as well to be sure you are protecting your current employees and clients, especially if they'll be working with children.
For the record, doing a Google search and/or checking out a prospective employee's social media networks does not qualify as a legitimate background check. Hire a background check company or have an HR professional conduct it for you. What you'll save in settlement and legal fees later will be well worth the minimal cost involved at this stage.
What constitutes passing the background check?
Passing the drug test, background check, and if applicable, a physical fitness for duty test. If for whatever reason they don't pass all three, this will allow your business to legally withdraw the offer of employment.
Verifying saves time, money, and more.
A background check should be conducted for every new hire. Verifying a candidate's background will help you avoid employment issues later, some of which could end up costing you significantly in time, money, reputation, and wasted effort. "Trust, but verify" are words to live by as I know very few small business owners who can afford any of these costs.
Contact Close HR for HR and/or C-Level business support.