Back to Results
Outsourcing: What is it & Why do it?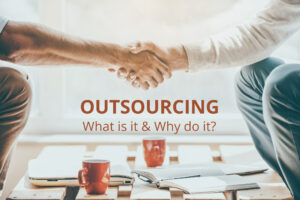 What is one of the most vital things a small business owner/entrepreneur can do, and why is it outsourcing?
It's true. One of my biggest recommendations as I consult with small business leaders is to outsource the things you can't/shouldn't be doing yourself. It's one of the most long-term cost-effective things you can do–hire an outside contractor to do what an employee could. It's a way to optimize your business and get the job done, usually by those more skilled and experienced in the areas you lack the effective skills and experience for.
In 2021, eight in 10 small businesses (80%) were outsourcing, citing saving time, saving money, and working with experts as their top reasons, according to a report from Clutch, a leading B2B research firm. The services that are often outsourced include accounting, IT, digital marketing, HR, and social media marketing, to name a few.
'Need more reasons to consider outsourcing? Consider these benefits for small business owners and entrepreneurs:
It reduces labor costs and overhead expenses since you won't have to hire in-house employees until you're financially able/want to do so.
Cash flow is better controlled. Outsourcing converts a fixed cost (a full-time salary) into a variable cost (a pay-what-you-need service), thus freeing up cash flow for investment in other parts of your business.
It provides you with the time to focus on core functions and allows you and your employees to stick to your strengths and focus on the specific roles everyone was brought in to do.
You gain access to expert talent and knowledge in the areas needed without the fixed cost of a full-time salary. Those contractors and freelancers come with specialist knowledge, expertise, and experience you might not yet be able to afford to hire on your own.
Managed risk. When an employee quits, all the money you spent on hiring and training walk out the door with them. Turnover at the wrong time (and is there ever a right time?) can disrupt your operations, causing costly problems. Outsourcing can allow you to continue your operations without interruption or risk.
If you decide to take the leap and outsource, what roles/skills should you consider outsourcing first? Consider the following:
What categories/problems do you struggle with regularly?
Which ones require specialized knowledge or tools?
Which ones require a greater input of time than you're able to give?
Which ones are far removed from your core competency?
Your answers to these questions will help you determine the best area(s) for outsourcing first.
In the end, it's almost always more cost-effective to outsource everything but your core business processes. When you do this, everything shifts as you are able to focus on the areas you actually enjoy and excel at, and more importantly, areas that only you can do for the success of your business.
Contact Close HR Connections for HR/people management and/or C-Level business support.