Back to Results
FiveStar Awards & Engraving
Name of Company: FiveStar Awards & Engraving, Cary NC
Website: fivestarawards.net
Business: In-house, cutting-edge custom awards and industrial engraving
Owner/Pres: Lisa Higginbotham, CRS
# Employees: 5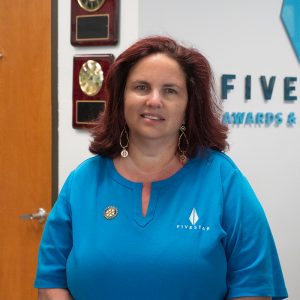 Building her own business over 21 years has been hard work for Lisa Higginbotham and her husband, Jeff. One of the most important takeaways early on? Choosing key advisors.
Lisa met Ann several years ago when the economy was tanking and they were attending the same class. She's been relying on Ann and Close HR Connections as her go-to for HR ever since.
Ann has written FiveStar's employee handbook, developed performance improvement plans, assisted with hiring and the entire recruiting and selection process, and provided wise counsel regarding legal compliance questions.
"There's a cost to HR," says Lisa. "HR is an important piece of any business. As a small business, we don't have in-house HR, so we have to spend money on it. It's essential. For example, our handbook is a live document. We have to revise it regularly to fit OUR business. COVID is affecting everybody's handbook right now, and each business is different. You can't just google "handbook" and put your name at the top of it."
"I did it all for many years when we first started the business" continues Lisa. "As we grew, I figured out that I had to take some things off my plate. I made a lot of changes and one of those changes was to figure out who my key advisors needed to be. Ann is that on the HR side for me."
On a personal note, Lisa adds, "I love the fact that Ann has a strong faith. That guides her with everything that she does. She is true to that calling, and it inspires me. I expect a long and ongoing relationship with Ann and Close HR Connections."