Back to Results
Should Super Bowl Monday be a National Holiday?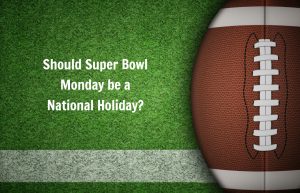 Over 99 million people watched the Super Bowl in 2022 with just as many or more expected to watch this year's 2023 matchup between the Kansas City Chiefs and Philadelphia Eagles on Super Bowl Sunday this year. That means watch parties that last late into Sunday night followed by a rough Monday morning for many. Employers may also have a rough Monday as employees call in sick, no show, or submit last-minute PTO requests. Here are some Super Bowl Monday facts according to The Workforce Institute of UKG:
Although a normal work day, it's the least productive work day nationally and the most popular sick day of the year.
Roughly 1 out of every 5 U.S. employees (17%) — an estimated 26.6 million people — are likely to miss at least some work on Super Bowl Monday, including a combined record-breaking 18.8 million U.S. employees not planning to go to work and 7.8 million who plan to start work late.
More than 2 out of every 5 U.S. employees (42%) believe the day after the Super Bowl should be a national holiday.
If last year's absentee numbers hold true, employee absenteeism this year could cost the US economy $3 billion, according to a study from Challenger, Gray & Christmas.
"We've been researching the big game's effect on the workforce for more than a decade, and while numbers may fluctuate each year, one fact remains clear, #SuperSickMonday is often the biggest day in America for calling out of work," explains Joyce Maroney, Executive Director, The Workforce Institute at Kronos Incorporated.
With the numbers indicating significant productivity loss on the Monday after the Super Bowl, what, if anything, can employers consider doing? Here are a few ideas other employers have implemented:
In 2017, Kraft Heinz. decided to give everyone the Monday after the Super Bowl off after it learned of the loss in profit due to the lack of employees working on Super Bowl Monday.
Some employers schedule a late start on Monday, having employees come in mid-morning and starting with a company meeting followed by a company lunch.
Others have employees work ½ a day, giving them the morning to recover from Super Bowl parties from the night before.
A popular suggestion has been to make Super Bowl Monday a National Holiday. However, the last time a national holiday was passed was Martin Luther King, Jr.'s birthday in 1986. And a downside to creating a national holiday is the pressure companies may feel to provide extra PTO.
Find the solution that works best for your company's situation. Develop your own "Game Plan" addressing the unique business needs of your company and your company culture, then communicate your decision in advance so all can make plans accordingly. You may or may not be able to provide flexibility on Super Bowl Monday, but you can consider how you can make the day both productive and enjoyable for your team.
***
For additional assistance with employee attendance, workplace policies, and/or other HR-related matters, contact us to discuss how we might assist you.