Back to Results
Time Out! How to Handle A Harassment Complaint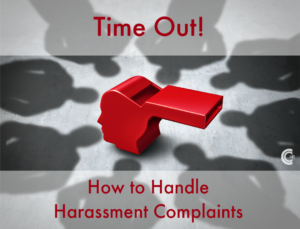 A few Mondays ago, my phone rang and the person on the other end of the phone said, "I've had an employee report a sexual harassment complaint, and I don't know what to do next." That's not how an employer wants to start off their Monday morning.
What about you? Do you know how to handle a harassment complaint, whether based on race, color, religion, sex, sexual orientation, national origin, age, disability, marital status, citizenship, and/or genetics?
First, understand that harassment can take several forms, including:
Creating an intimidating, hostile or offensive work environment
Unjust and unwarranted interference with an individual's work environment and ability to work
Adversely affecting an individual's employment opportunities.
Harassing conduct, behavior, language, and gestures can include:
Verbal or written descriptions, slurs, or negative stereotyping
Degrading, inappropriate jokes,
Hostile, intimidating, unwanted, and/or violent acts
Bullying
Written and/or graphic materials that portrait hostility or aversion toward an individual or group displayed or circulated throughout the company using company equipment, through email, phone, VM, texting, social media, or other means.
So, how should an employer handle a harassment complaint?
Employers should take all harassment complaints seriously and take immediate action.
HR should lead the investigation
Legal counsel should be sought
Actively 

l

isten
Investigate thoroughly
Who, what, where, when, and witnesses
Don't assume anything – things are not always as they appear to be
Maintain confidentialitythroughout the entire investigation.
Document every step of the investigation
Interview both parties and any potential witnesses
Communicate to all parties involved in the complaint that retaliation against an individual reporting the claim, witnessing a complaint, or participating in an investigation is strictly prohibited and disciplinary actions will be quickly pursued.
Take action
Follow up and communicate the findings of the investigation to the employee who filed the complaint and appropriate actions to be taken by the company
Address the individual who was accused of harassing behavior/actions as to the results of the investigation and next suitable action(s) to be taken by the company.
Don't wait
Be proactive by not waiting until an employee or individual associated with the company throws a "flag" and reports a harassment claim to address harassment in the workplace. Be a leader in the marketplace and provide ongoing training for supervisors and employees, have a strong harassment policy in your Handbook, be clear that supervisors need to address issues they witness immediately, communicate frequently that the company will not tolerate harassing behavior, and encourage employees to report issues immediately to their supervisor or Human Resources.
Blow the whistle on harassment in the workplace. Take the action needed to improve your work environment and protect your team.
For assistance with harassment complaints, or any other HR needs, contact me. You can also follow me onTwitter and LinkedIn.