Back to Results
What Human Resources Misconceptions Can Cost You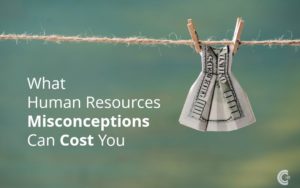 A recent prospect asked, "Why do I need an Human Resources (HR) consultant for my small business of about 25 employees? I set them up on payroll and our insurance plan, and that's all there is to HR, right?"
Or is it?
The HR function in an organization, whether you have 3 employees or 3,000 employees, is much more than enrolling the new hire on the payroll system and the benefit plans provided by the company.
You've heard it before, "People are the most valuable asset to any organization." It takes people to perform the sales and marketing functions, the production or development of the products/services, implementation and customer service, and
the accounting, administration, and yes, management too.
Getting Started
To start, HR begins with developing the culture and work environment of the organization, alongside the entrepreneur and/or leadership team. There are also Federal and State requirements/regulations responsible employers are expected to identify, implement, and follow to protect both the employer and the employees, such as workers compensation insurance.
Next Steps
From there, Human Resources moves into developing the organization's story including the history, vision, mission, and values. This helps attract qualified employees who share these same virtues. Recruiting and onboarding new hires are the next HR responsibilities, flowing into employee engagement, benefits, compensation, performance, training and
development, discipline, employee retention, and employee separation as the occasion arises. In between, HR also addresses employee relation issues, HR audits, and potential legal issues, such as harassment, discrimination and terminations without cause.
The HR functions and responsibilities are a part of every entity, whether non-profit or for profit, whether 3 employees or 3,000 employees. It covers every industry including blue-collar, gray-collar, and white-collar organizations. As the entrepreneur or the leadership in an organization, you are often wearing multiple hats including Business Development, Sales, Marketing, Finance, Operations, Customer Service, HR, Risk Management, and the list goes on. The best use of your time and energy is spent on managing and growing the business. Misstepping in the area of Human Resources can be very costly, whether it is an employment lawsuit, failing an audit for not knowing what you don't know, and/or
high turnover costs. Most organizations do not hire a full-time HR professional until the headcount is north of 50+ employees. However, regardless of the size, the organization is still required to be compliant with Federal and State regulations, along with properly handling all of the HR functions mentioned in this post.
Delegate HR
Do HR issues keep you up at night, weighing heavy on your shoulders? Why risk being fined and penalized from a government audit or having to settle out of court for a wrongful termination charge? Keep that money in your business for operations and growth and delegate the HR role for your organization to an HR Consultant on a fractional, as-needed basis. Outsourcing the HR role allows you to access the experience, knowledge, and expertise of an HR professional without adding the full-time headcount and overhead costs until the growth of the company requires a full-
time HR professional to be onsite on a daily basis.
The misconception of HR consisting only of adding new hires to payroll and benefits can be costly to your organization. Explore outsourcing your HR role, get a better night's sleep, and protect your organization.
_______
Close HR Connections can be a sounding board for management to discuss HR issues needing to be addressed, as well as, providing counseling, coaching, accountability, and support as you evaluate your HR needs and make decisions for 2018. Let us know if we can help.