Back to Results
6 Ways to Support Employee Mental Health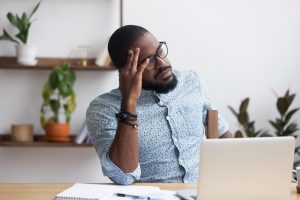 There's no doubt that the COVID-19 pandemic is affecting the mental health and wellbeing of people everywhere. According to a global study by Qualtrics and SAP (March/April 2020), since the outbreak began:
75% of people say they feel more socially isolated
67% report higher stress
57% are feeling greater anxiety
53% feel more emotionally exhausted
As the shutdown lingers on, the numbers are only expected to increase. Add in parents having to decide upon childcare options, schooling virtually or in class, keeping aged parents safe, etc., and the importance of providing a workplace that promotes positive mental health is more important than ever.
We're offering six steps every leader and manager can take to make an immediate impact on employee mental wellbeing.
Create Clear Health and Safety Guidelines
Develop policies and procedures describing exactly what the company is doing to provide a safe work environment, specifically in relation to preventing the spread of COVID-19. Provide clear instructions and guidelines for what is expected of employees and how they are to conduct themselves in the work environment. This provides one less thing to stress over when they enter the workplace knowing what is expected of them and others, and that their employer is looking out for their wellbeing.
Offer an Employee Assistance Program (EAP)
EAP's are employer-paid benefits and are resources an employer can provide to the employee through most health insurance carriers or a third-party resource. The EAP offers assistance in coping with traumatic events, resolving personal issues, improving mental and physical health, along with any other type of personal issue an individual may be facing.
Provide CDC Recommended Tools and Resources
The CDC website offers a list of options for providing a supportive workplace environment that includes the use of Quiet Rooms, listening to soothing music, the opportunity to get outdoors and walk around the building, stress balls, and more.
Provide Access to Counseling
Provide employees with contact information to local counseling resources or consider providing access to a Company Chaplain who can come onsite to meet employees by appointment for example through Corporate Chaplains of America.
Provide Mental Health Training for Leaders and Managers – Providing mental health education as part of leadership training will help those in a managerial role have better tools for dealing with stress (of any kind) in the workplace. This training would include looking for warning signs, encouraging strong communication skills, and identifying potential workplace emotional events.
Provide Reassurance of Confidentiality
Although you as the employer may be taking all the correct steps in providing the tools and following the processes for fostering positive mental health, employees may still feel uncomfortable in raising concerns or struggles they are facing in the workplace. Ensure staff that if they come to HR with any type of concern or sensitive information that the info will be kept private, including from supervisors, when able. Additionally, reassure employees that sharing concerns with HR will not affect their job status, and matters will be kept confidential as much as possible.
Achieving positive mental wellbeing is challenging in normal times. Our people are now dealing with unprecedented circumstances, and the COVID-19 health crisis will be with us for some time to come. Approaching it with support, compassion, honesty, and openness will help us all emerge better leaders, people, and companies.
* * *
For assistance with mental health tools, resources, and/or guidance in the workplace, contact Close HR Connections