Back to Results
The Naughty & Nice Lists of Company Holiday Parties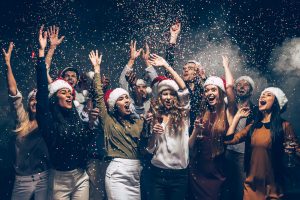 'Tis the season for holiday parties! Time to celebrate the holiday season along with the successes of the past year.
Celebrations are a great way to work on team building. However, if not monitored, sometimes things, people, and situations can get out of hand. We've put together a simple Naughty and Nice list to help ensure all employees have a merry time at the holiday party and to help everyone avoid potential company headaches.
From the Naughty List
Attendance – We want employees to attend and join in the festivities. However, assure employees that attending, or not attending, the party doesn't change their standing within the company. Remember that everyone has a lot going on during the holiday season and some may have conflicts.
Employees Only – Allow employees to invite their spouse or significant other to attend with them whenever possible. This allows spouses/others to meet the employees they hear about all year long, as well as provides a second option/driver in case an employee shouldn't drive themselves home.
Mistletoe – It may be festive and look nice but it can easily lead to all sorts of harassment issues and potential complaints. Other holiday greenery, such as garland or poinsettias is more appropriate.
Unlimited drinks – To avoid someone driving while intoxicated, it is best practice to establish a system and set a drink limit for attendees. Be prepared with a plan to handle incidents of an intoxicated attendee who shouldn't get behind the wheel of a vehicle. Provide Cab/Lyft/Uber rides and have a few staff members designated to be observers watching for any potential issues.
Bad Behavior – Address any situation that is a display of bad behavior immediately before it becomes a bigger issue and gets out of hand. Two designated management team members should pull the individual aside away from the party and handle the situation discreetly and confidentially.
On the Nice List
Be Inclusive – Remember the goal is to bring your employees together and provide a morale boost. Make sure those that may not celebrate Christmas also feel included.
Recognition – Take this opportunity to recognize each employee for his or her contributions to the company. Acknowledge a specific example of how they have demonstrated company values, handled a customer complaint well, or been a team player in the past year. Keep it short and specific, appreciating them as part of the team.
Review Expectations & Policies – Send out an email reminder days before the event so that all employees are reminded and made aware of company policies and expectations that extend throughout the event. This also offers a great opportunity to remind/share the company's policies such as dress code, harassment, and drinking alcohol expectations.
More Than Drinks – Provide ways to make the night memorable and enjoyable. Consider providing one or two fun activities such as karaoke, a short video recapping the company's activities and wins for the year, or an ice-breaker where attendees are asked to connect with one another in a fun and unique way such as trivia about the company's year or other holiday theme, solve a puzzle, and/or coordinate a company giving project.
Here's to a wonderful company holiday celebration season. Be sure to check your Naughty and Nice list to help ensure the celebration is not tainted by any unfortunate situations. Celebrate and recognize your team members, company wins, and the blessings from the past year. Happy Holidays to all!
* * *
If Close HR can assist you with any holiday Naughty or Nice situations, employee policies, or general HR holiday needs, don't hesitate to contact us!